WE CAN ALSO ASSIST YOU WITH:
About Us
Three Decades of Experience in Boston and New England
I established the Law Office of Charles P. Kazarian in Boston more than three decades ago to use my experience as a trial attorney to successfully battle negligent lawyers and uncaring insurance companies. I also represent business owners in disputes with partners, shareholders and other businesses.
Knowledgeable
I feel strongly that a broad background in the practice of law is necessary to adequately represent my clients. Over the past 35 years I have acquired solid experience, handling cases against lawyers who have mishandled client matters in the areas of commercial and business law, personal injury, civil rights / discrimination, consumer protection, corporate law, criminal law, employment law, ethics & professional responsibility. I have earned the respect of my peers and numerous referrals from satisfied clients throughout Massachusetts and New England.
Empowering
As an attorney, my goals are to earn the trust and confidence of new clients from the very beginning and to consistently maintain a positive attorney-client relationship with every one of my clients.
Many of my new clients are confused and hesitant — especially those who feel betrayed by their previous attorney and are coming to me with a legal malpractice case. The goal of my initial discussion with you will be to demystify the legal process and empower you to make well-informed decisions. I offer a team-approach to the attorney-client relationship where the goals of both must be in sync. I never stop until I am certain that I understand exactly what you need, or until you understand exactly not only your legal rights, but where the practical and legal solutions are.
Diligent
Good communication is key to a successful attorney-client relationship. I will try to place your concerns in the context of your everyday life and to address your concerns in a thorough, professional and courteous manner.
I don't use the term "personal attention" as a hollow buzzword. Rather, I adhere to the meaning of the term by giving my clients frequent case updates and promptly returning their phone calls. To me, keeping you informed leads to positive, constructive progress in your case and ensures your expectations are met.
Call For A Lawyer Case Review
Call (617) 723-6676 today for a confidential review of your case. There is no cost for an initial e-mail exchange or telephone consultation with me or my staff. Or you can fill out the contact form on this site, including as many details as you feel are necessary about your legal malpractice or other matter. We try to respond to all emails within 24 hours.
Charles Kazarian was a featured guest speaker on legal malpractice at the Legal Lunch Series hosted by……. Click here
to read more
VIDEOS
Boston MA Business Litigation Lawyer Personal Injury Attorney Massachusetts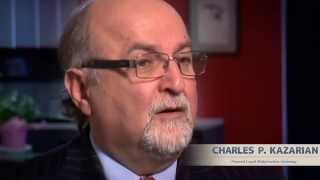 Send Your Case
Bold labels are required.