Contact Us
The First Step: Consultation With A Lawyer
If you are facing a legal issue, it's important to contact a lawyer right away. Sometimes there are notice issues and deadlines associated with legal actions that require prompt action. To schedule an appointment with me, call 617-723-6676 or fill out the contact form below.
There is no cost for an initial e-mail exchange or telephone consultation with me or my associates. This will give you an opportunity for you to get to know me and for me to learn more about you and your case.
Effective client service is first and foremost based on an understanding about the economic terms of the lawyer/client relationship. It helps avoid later misunderstandings. I will discuss attorney fees in detail, at no charge, during our initial telephone consultation. The exact terms of representation will be set forth in a written fee agreement.
My law firm is based in Boston, Massachusetts, but I have successfully handled cases in Rhode Island, New Hampshire and Maine. In addition, I will consult on cases in other states in cooperation with local counsel.
Charles P. Kazarian, Esq.
1 International Place, 8th Floor
Boston, MA 02110
Phone: 617-723-6676
Charles Kazarian was a featured guest speaker on legal malpractice at the Legal Lunch Series hosted by……. Click here
to read more
VIDEOS
Boston MA Business Litigation Lawyer Personal Injury Attorney Massachusetts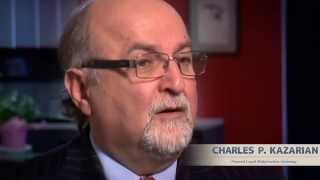 Send Your Case
Bold labels are required.